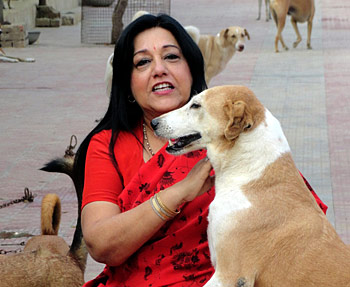 Just like humans, dogs need order and leadership. They seek order, which his owners must provide. Your dog needs to know that you are the in charge and that you have a set of rules to live by. This makes the transition from the street to your home easier, faster and more rewarding.
If you've decided a dog is the right pet for you, congratulations. People with dogs tend to be healthier and happier, and suffer less from depression, stress, high blood pressure, heart disease, and loneliness than those without. A close relationship with a dog can provide you with years of protection, companionship, and unconditional love.
While the rewards of owning a dog are greater than any other pet, so, too, are the responsibilities. All dogs need daily outdoor exercise, regular medical check-ups, and a lot of attention from their owners.
Indian dogs are especially evolved to suit India's climate and conditions. Blessed with native intelligence and natural hybrid vigour, the variety of Indian dogs is just fabulous. You can adopt an Indian dog off the street or from any animal shelter.
That Wonderful Feeling!
Dog adoption is a wonderful thing. There are
millions of pets in shelters and rescue centres waiting
forever for homes. By adopting a dog, you can help
homeless pets and set a great example for others.
Dog adoption is not right for everyone, and it is not
something you should enter into lightly. Getting a dog
is a major decision that will affect your life for many years.
If you have decided that dog adoption is for you,
great news! Bringing an adopted dog into your home
should be a rewarding experience for you and your family.
What Kind of Dog?

If you have decided on dog adoption, you may have your heart set on one specific breed. It is possible to adopt purebred dogs from shelters and rescues if you plan ahead. However, if you are not set on a certain breed, you should still have an idea of the type of dog you want. Consider age, size, grooming needs, health issues and activity level. Have your desires in mind before you go looking. Better yet, make a list of dog features broken down into three areas: what you absolutely need in a dog, what you'd like in a dog (but can live without), and what is not acceptable. This way, when you get out there and see all those cute faces, you will know where to begin.
Where to Adopt

You can adopt a dog from an animal shelter, a general rescue group, or a breed-specific rescue group. The internet is a great way to find dogs for adoption in your area, but be careful to visit reliable sites.
Be patient and try to make your home a positive environment for your dog. You may need to separate him from other pets at first. As he adjusts, you can gradually begin to work on training, bonding and preparing for your life together.